First things first. Quick course in Geography and Mapping in Utah 101. It is VERY easy to find your way around the Salt Lake Valley. There are easily distinguishable mountain ranges around the valley to help you keep your bearings so you always know which way is north, south, east or west. And basically in the middle of Salt Lake City there's a "0" (that's a "zero" not "oh") spot called Main Street (which runs north/south) and South Temple (which runs east/west) from which everything is measured. If you move east of the Main Street you'll find yourself at 100 East. If you move another block east you'll find yourself at 200 East, etc. Likewise with the other directions. So an address of 1200 North 100 East means you are 12 blocks north of the "zero" spot and 1 block east of it. I've always been told that all Utah cities are set up on this same grid type mapping and address system. So when I was given the coordinates to a park in Utah County today I thought "bah! easy! I can find any coordinate! No problem!" Except in Utah County.... they do things a bit differently. The cities completely blend together and you can't tell where one starts and another ends, and each individual city has it's own "zero" spot in the center of the town. So I could be on 1200 South in American Fork and suddenly find myself at 300 West in Pleasant Grove. I recognize that this is a really wordy and painful way to simply say I GOT TOTALLY LOST trying to find the dang park today!!! It was ridiculous! I thought I was losing my mind and truly had no idea where I was for a few brief minutes!! At one point there was literally a street sign that had TWO different street names/coordinates on it!!! I had no idea where I was, which direction I was heading, what my favorite color was, who the screeching kids in the back seat were, etc. I was a wreck. I finally pulled over at jiffy lube and asked for help. Luckily a lady in the waiting room knew the park I was searching for and said "Just go back north to the Purple Turtle and turn right. You'll find the park." The Purple Turtle. Yep. Thank goodness for landmarks because the street numbers in American Fork/Pleasant Grove/Lindon are the things my nightmares are made of. I finally arrived at the park almost 45 minutes later than I said I would!!!!! And driving on fumes, 25 miles away from home. (And I'd already raided the coin jar for quarters to pay for gas to even get to the park in the first place!!!) I had no idea we were going the "scenic" (aka panic-inducing) route. What a delightful trip that was!
THANKFULLY when we arrived we found Sara and Max patiently waiting!!! YIPPEEEE!! It was so fun to see Sara again, all beautiful and round-bellied! Max was adorable as always and showed of his new skills and toddled around. So fun! Max and Toby only barely cooperated for pictures before going their separate ways...
EDITED TO ADD: Much to my dismay, almost the very first thing out of Sara's mouth was "Toby your sippy cup is pink!" The whole way to the park, in between panicking about which direction we were going and wondering if we had enough gas to actually get home when the day was done, I was freaking out about the dang purple and pink sippy cup! We'd borrowed it from Grandma's house last night when we forgot Toby's sippy. And it still had milk in it in the fridge today when we were leaving so I just grabbed it for convenience sake. I was mortified that my son, youngest of 3 boys, was spotted in public with a pink sippy cup.
Then the boys enjoyed some swinging time, although we mommies were NOT enjoying the heat radiating from the wood chips under our feet. Who knew wood chips could be two thousand degrees???? I love how Max looks like he's about to nose dive out of the swing in the 1st picture LOL. He seemed to like it though!
Ever had that discussion about never allowing your sons to play with toys that are replicas of weapons? Oh c'mon, I know you've had that discussion. Husbands don't see the big deal... wives tend to want to never expose the babies to anything violent, blah blah blah. Yeah, it doesn't work. My oldest son bit a piece of toast into the shape of a pistol when he was 3. It's just something in their little testosterone-filled bodies I guess. So we have a house filled with water guns, light sabers and pirate swords. So shoot me. The babies seemed quite content playing with guns and chewing on daggers. Hehehe.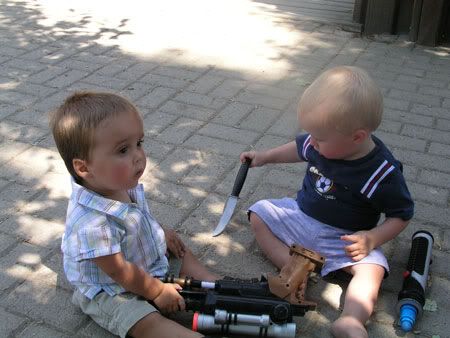 Here's the mandatory Mommies and Babies shot. (My 8 year old took the photo. Sara studied it for a sec and gave it the thumbs up and gave me permission to post it LOL) Max was very, very sad. He'd gone exploring and gotten stuck in an area you never would have thought could get someone stuck. Poor little guy was traumatized!!!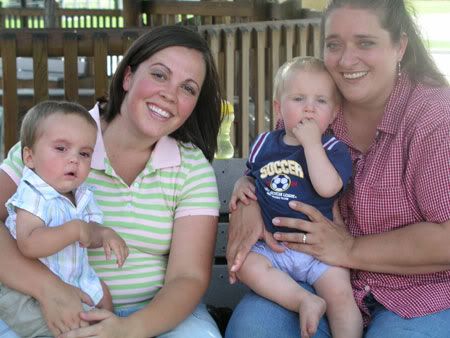 And here's the rest of Discovery Park in Pleasant Grove, Utah. This was definitely the farthest we'd traveled to visit a park (even if you don't count the extra 632 miles I traveled trying to find the dang place LOL). It took us about 40 minutes to get here. The boys said it was worth it. If they'd asked one more time "Are we there yet?" they'd have lost their tongues, and maybe they wouldn't have found it so worth the drive at that point. In any case, this was another community designed/funded/built park and it really was a lot of fun. It was sort of science themed with areas dedicated to Geology, Astronomy, Space Travel, Dinosaurs, etc. Lots of imaginative play areas, plus slides, swings, climbing areas, etc. The kids gave it their thumbs up and I'm pretty sure it will be in the top 4 or 5 on their final list.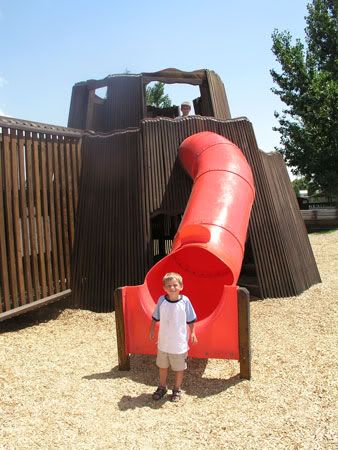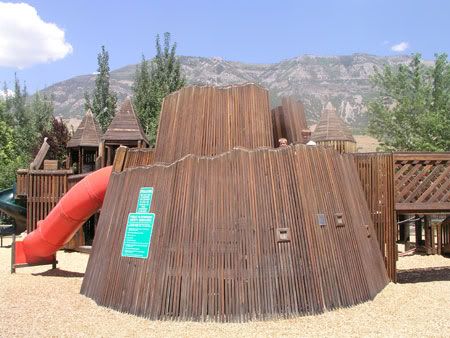 It was ridiculously hot again, and thank goodness for shade trees! The boys still wanted to play play play though, and as usual, Brady had the sweatiest head of any kid I know. Can you see the drip of sweat on his earlobe? LOL.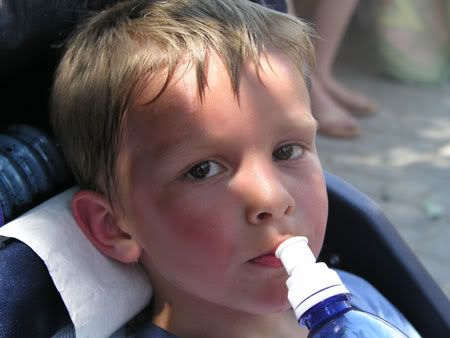 Well we did it!!! If I'm being completely honest I really didn't think we'd actually follow through with the whole 3 week plan, but we did! And I'm so happy about it and I'm so relieved to finish Ben's summer breaks with no regrets, no wishing we'd done something fun for him to report on when he starts 3rd grade. He's got an awesome summer break to talk about and I'm thrilled about that! It's been a great little summer vacation! Thanks for going along for the ride!